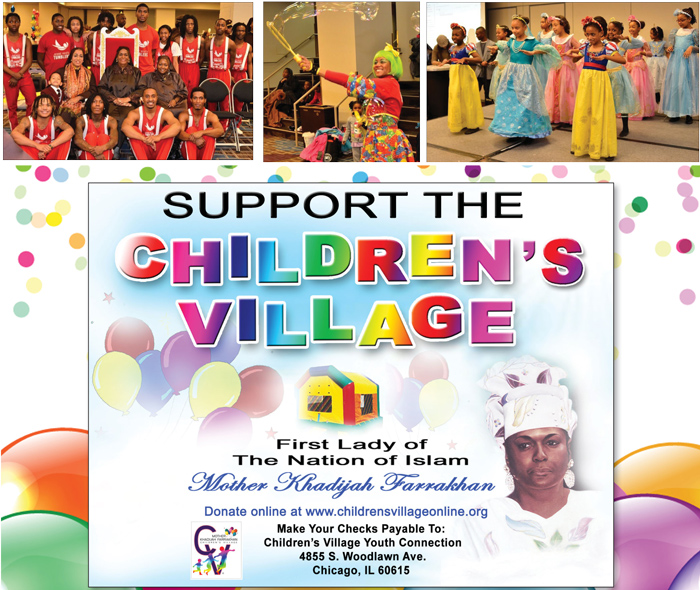 Register for, support and enjoy the 2014 Children's Village
Mother Khadijah Farrakhan's Children's Village is going on the road! We are excited to bring the Children's Village to the Cobo Center in Detroit, Mich. The Children's Village will be a two day event again this year and is scheduled for Friday, February 21 and Saturday, February 22. It isn't all about the fun and games, although there will be plenty of that during this two day period. Mother Farrakhan's Children's Village is an opportunity for the Nation's children, their friends and family to learn about Islam, showcase their talents and enhance their knowledge while enjoying entertainment and activities.
Like always, this year's village will be educationally uplifting. The village will include a variety of hands-on workshops, games, face painting, balloon art, carnival rides, inflatable jumpers, laser tag, bumper cars, arcade games and Mother Farrakhan's gift center. Youth attendees will be allowed to shop at the gift center. This customized shopping area includes books, games, and toys. The gifts are provided at no cost to youth participants. Last year, Nikki Brown Clown (Sis. Nicole X) was a major hit with the youth. She is returning this year, bringing her best friend and more bubbles! A new attraction this year is our "Old School Versus New School" chess tournament. The Children's Village is offering adult chess players a chance to test their skills against our youth. Don't underestimate the skills of our children, we have some chess masters in the making! If you are up for the challenge come play chess with our youth.
Entertainment will include singers, dancers, musicians, a youthled martial arts demonstration and other exciting performances. If you are interested in performing on the Village stage e-mail [email protected] For more information visit us online at ChildrensVillageOnline.org. Registration for the Children's Village begins February 3, 2014. Please register your child in advance.
Mother Khadijah Farrakhan's Children's Village is always offered to our youth free of charge. Your financial support of this annual event is needed and appreciated.